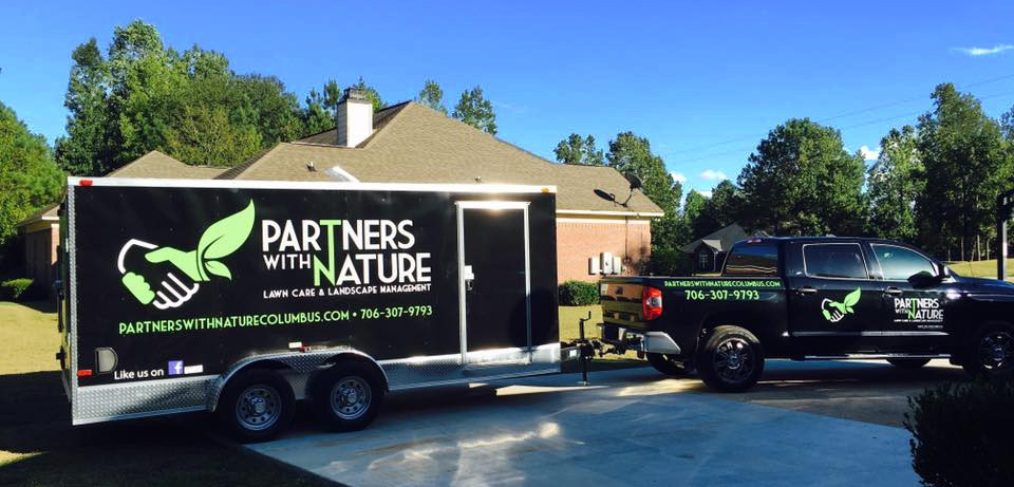 Spotlight on Success: Partners with Nature's 1,100% ROI
Partners with Nature saw a 1,100% ROI and overstuffed their calendar with appointments
Not all ROIs are created equal and when it comes to what Partners with Nature pulled off, they've really figured something out. We love highlighting the successes that we help our customers achieve which is why we're proud to introduce Brad Hollingshead!
He's the owner of the Columbus, Georgia based landscaping company and today he shares how he's building a premium, service-oriented landscaping business and how Opportunity Knocks is helping him get there:
Brad sat down with Jim Schimpf at Opportunity Knocks:
(You can also listen to the 20 minute interview here)

Q: Brad, thanks for taking the time today. Can you tell us a little about yourself and the business?
A: Sure, we're a lawn care and landscaping company. I just retired from the army, and we started up in September. Pretty late in the season, I know, but we wanted to build a real strong, professional image in our marketing now. This year is looking good for us.
Q: How are you going to start off strong this year?
A: Well, you see everybody, they just throw a trailer on the back of their truck and toss a lawnmower in it and they call themselves a landscaping company. I wanted to give us a more professional appearance than that. You guys have helped a lot with my marketing and the mailers and postcards.
Q: What do you find is more professional about postcard marketing?
A: Basically, if you start with a great image and a good professional look like that, then right off the bat customers are going to expect more from you but they're also going to be comfortable with you working on their property.
Q: Coming out of the slow season, what's been the biggest marketing challenge for you?
A: Just getting my name out there. I live in a town where I don't come from. I'm jumping into a market that's already got 300 companies and everybody is already using their landscaper. People are already set and have contracts. That's the biggest challenge for me.
Q: What's the trick to converting those contract customers over to you?
A: Quality work and persistence. We've gained 10 customers from you guys alone in the last month – all new homeowners – off that program. And off those ten customers, we've received annual contracts, and we're looking at about $22,000 for the new year.
Q: What kind of investment was that program up-front?
A: We're doing the 3-postcard program through you guys. Basically, most of those customers are calling me after their 2nd postcard. So, $2 per customer?
Q: Wow – that's incredible.
A: Yeah. I used two other forms of advertisement too. One is HomeAdvisor, the other one is Thumbtack, and I spent a lot of money on HomeAdvisor and not even close to the return of the postcard and the mailers. On the internet, you get put in a boat with 20 other contractors who are bidding on it and you're spending $8, $10, $12 per phone call. Postcards put you directly in the customer's face, they remember your name, they see what deal you're giving them, and they call you.
Q: So, you've been using the new-mover program?
A: At first I was really wary of the whole program. My wife sells real estate and a lot of the homes that people buy are buying new homes. People are moving into new freshly sodded yards. And I was thinking, "that's not going to work" but sure enough, by the second month we started getting calls and it just grows and grows and grows.
It works because they see your face and they see your card a couple of times and it's in their head. I was surprised, there's people who will get your card but won't call you for a while because they're busy and they'll just put it on their refrigerator. Nine times out of ten when I go to show up on an estimate I'll ask how you heard about us and they'll say "oh we saw you on a postcard" and they'll go and get it.
Q: By the way, how did you hear about us?
A: I honestly don't remember, I found you guys on the internet. The postcards and the print were awesome, and I got ahold of Andy and we've been working ever since. He's amazing, that guy – very helpful and very user friendly.
I've head other people tell me to use other companies and without a doubt I will never change. There's no reason to change. I don't even look at other companies. I don't have any time or need, even if they're cheaper, I don't care. This is just super user friendly.
Not too shabby results for 3 postcards, huh?
Brad, we can't thank you enough for the kind words and for taking the time to sit down and share your expertise. We appreciate your business and we're excited to continue to grow with you!
Now, curious if it'll work for you?
Only way to find out is to call in yourself at 1 (866) 319-7109!
Would you like to be a featured client spotlight?
We'd love to hear from you! Drop us a line at 1 (866) 319-7109.