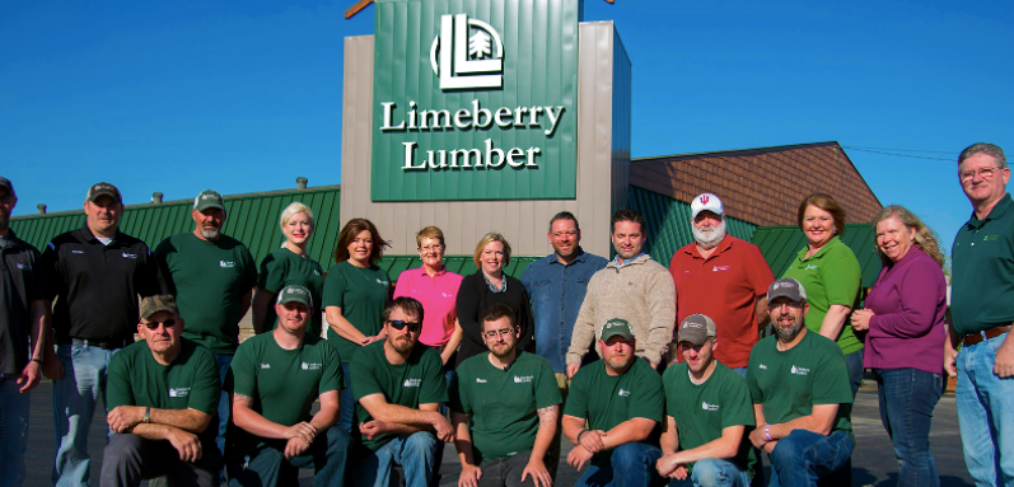 Spotlight on Success: Limeberry Lumber's 10x marketing ROI!
How a hardware store launched home installation services and saw a 10x return
First off, there are few things more gratifying on this Earth than hearing that our customers are successful. At Opportunity Knocks, we work hard to empower small businesses to increase their sales through marketing and today we've got an incredible success story to share from Jason at Limeberry Lumber in Indiana. He shares how the company went through a transformation and used Opportunity Knocks' marketing services to drive $35,000 with just a few campaigns!
Jason sat down with Jim Schimpf here at Opportunity Knocks and and here's an excerpt from their conversation:
Q: First of all, thanks for being here Jason! How did you find out about opportunity knocks?
A: I've used you at my own business in the past, and I used you as an employer at a previous company, for another contractor. I think we did some basic google searches and found you that way.
Q: So what was marketing like at Limeberry before you started working with Opportunity Knocks?
A: [When] I came onboard at Limeberry Lumber about two years ago now, this program was non-existent, so we initially reached out to you guys to get it going, get the word out. Limeberry Lumber as it stands is a sixty-year-old family owned hardware and lumber store.
Word of mouth was huge, local newspapers, community outreach into the ballfields and other youth programs were big. I don't know all of it, but it was on older style of tried and true kind of marketing, and some radio spots here and there.
[At first] I had a conversation with Scott here at Limeberry about coming on board … it became pretty clear that the interest was there in having more of an outreach in the community, in servicing some of those retail customers so we started an installation division.
Q: What prompted the owners to want to do an installation service?
A: Well we had walk-in customers and we kept hearing "we need a deck built, do you guys recommend anyone?" Or, "Hey we need some windows replaced, who should we call?"
We wanted to be responsive to that rather than giving out names and phone numbers and let them walk out the door. The two different things we were doing wrong was that first, we weren't capturing the customer. Who knew where they were going to go? Number two, we didn't know if that contractor was going to follow through. Maybe they did call somebody on a list we gave them but then that contractor never called them and so that customer comes back in the door and says "Hey I called that contractor and they never called us back."
Q: Now that reflects on your reputation
A: Exactly. There's no other way to look at it. It did. What we wanted to do was provide a better service, more predictable service, but cheers to you Jim because we had to get that word out.
I've lived in this county all my life but all Limeberry Lumber was to me was a place to grab two-by-fours on Saturday, or to grab a garden hose, but it was never more than that in my eyes, and we want to make for sure we didn't take for granted that everybody would just know what we were doing. That's why we reached out to you guys, was to help present that new image along with the new offerings and the new services that we were ready to bring to market.
"That's why we reached out to you guys … to help present that new image along with the new offerings and the new services that we were ready to bring to market."
Q: So that's when you connected with Andy?
A: Correct. Andy had done a couple other campaigns for me before. Anyhow, we said what are you trying to do, we told him, we gave him some basic budget figures.
I'll tell you the way it is, I wore him out trying to find the right mix of customers at the right budget, and he's always done a really great job for us finding the demographic and the zip code that we need at a budget that makes sense. He's always taken a lot of time to do that for us.
Q: Andy is un-wearable. You can't wear him out. Did he have to do specific research?
A: He spent a lot of time, number one, helping me define that. He did research on our county and he did research on the ages and the home values and home incomes and home counts and the zip codes – he did all that. We've even taken some of that knowledge that he shared and adapted that into how we present newspaper advertisements, how we focus other things we do. That's knowledge that we didn't have.
I don't remember and I'm just shooting from the hip, but at some point he made a comment about the average home value in our market – how it only makes sense to market to that customer and not the higher end, because the reality of it was, [most of our buyers] couldn't afford it. That little tweak, that helped, a lot.
Q: How many campaigns have you done with us?
A: Oh, 4, 5, 6, I don't know, but the response has been predictable, and that's why we do it. [Your team] was doing some follow up with me and I think the last time I shared with them that we had closed about $35,000 in business and 2-3 other sales, and what's interesting about it, is that these are proposals we had typed 6 months ago.
Q: How is that?
A: You know how it is, your life's busy, it kinda gets put on the shelf at home, you forget about the importance of doing that project, but then you get that reminder in the email, "Oh yeah, I forget about that, I wonder if Jason still remembers me…"
We had a couple of those that weren't new leads, but they were born-again opportunities. In addition to the 4-5 sales we made from the 7 or 8 fresh leads, we also had a couple that came through that received a postcard that were like "Oh yeah, we can work with you." This last campaign we had a couple of really big ticket items, big tickets for us, you know, and after spending $2500, we brought in $25,000.
Q: Wow, that's incredible. What would you say has been the most helpful overall in working together?
A: I've been doing this for thirteen, fourteen years now, and I say it all the time, when I'm meeting folks, the relationship is the valuable part of what we're doing today. And Jim, we're in a small community, we've have 40,000 people in the county. Chances are when I go to the local grocery store, I'm going to see somebody that I've either worked with or someone that I've talked to about working with. What you guys are letting us do is sending a direct message to people that are realistic customers, it's a targeted message to targeted customers, and we want to make them aware of us and it works. It works.
Not bad results for a bit of back and forth, huh? Jason, thanks for taking the time to share your insight and expertise! We truly appreciate your business and this partnership and we look forward to helping Limeberry Lumber continue to grow.
Now, curious if it'll work for you? Only way to find out is to call Andy for yourself at 1 (866) 319-7109!
Would you like to be a featured client spotlight? We'd love to hear from you! Drop us a line at 1 (866) 319-7109.