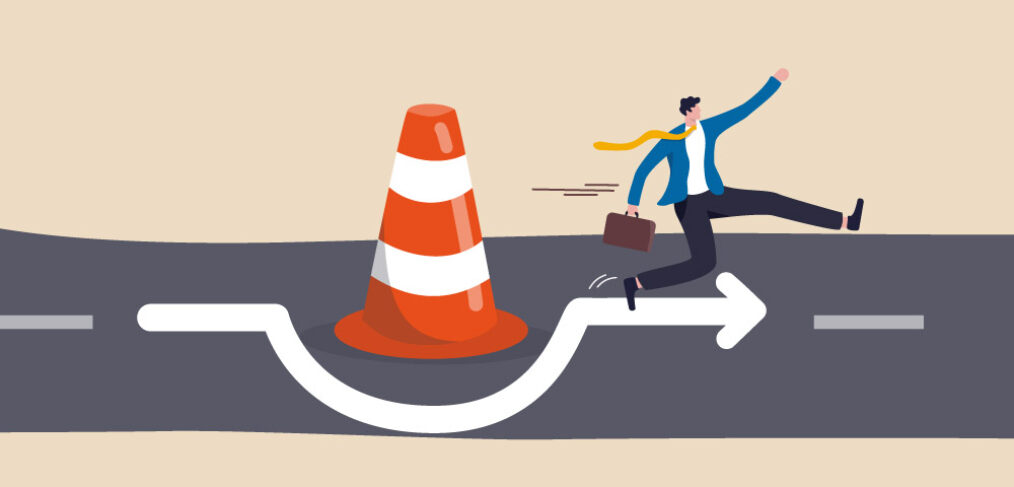 Remove Roadblocks from Your Postcard Success
When I sat down today to write this article, the first thing I was faced with was a message from the security software on my computer. It was telling me that something had gone wrong during its updating of my system and that the entire software program needed to be uninstalled and then reinstalled before I could safely use my computer and the connection to the Internet. Even though that message, and the resulting actions, were necessary, I was not pleased that it was an interruption in my day. The software company had just dropped a roadblock in front of plans I had for achieving my goal.
Ironically, that gave me a better idea than my original to write about. What kinds of things are you doing on your postcards or in your direct mail campaigns that are roadblocks for your readers and potential clients? There should be guardrails in place to prevent irritation, causing them from moving on to the next postcard or piece of mail in their pile. To ensure your very best communication with your target, you must adopt these 6 Direct Mail Roadblock Removers:
Write in a Direct Mail style – You have a limited opportunity to make your point. Unless the product or service you're selling is comical or light-hearted, don't rely on fluff or jokes in your copy. Get to the point, show proof (if you can), and ignite the curiosity required for a next step.
Don't let Branding Goals Compromise Performance – Name recognition will always be important in sales. But your name will mean nothing if you can't back up what you're asking your target to put their trust in. A strong, intentioned message of performance and value do more to build your brand than a flashy logo or postcard design.
Emphasize Getting a Response – Sales is like a 2-way radio…there MUST be someone on the other side who agrees to engage. And with a direct mail campaign, that engagement is often measured in terms of response, be it a request for more information, reaching out to you to set up an appointment, or (what everybody wants) a direct sale. Without a response, your campaign is pointless, so drive the copy toward your Call-to-Action to help increase your odds. There's nothing wrong with asking for the business.
Test, Test, Test – If I've said it once, I've said it a thousand times. Testing the effects of your campaigns is the absolute best way to understand what works, and what doesn't. What hits your target in a way that makes them immediately ask for more information or go directly to a sale? And what makes them go no further than reading your postcard before tossing it into the trash? By testing specific attributes of your message, you can easily zero in on the 'control' whose Return on Investment will knock your socks off.
Explicitly Target Direct-Response Buyers – There really is merit in utilizing lists of targets which speak 100% to the people who have bought a service or product through direct-response in the past. Use information which already exists to make a much more precise outreach to prospects who are more likely to respond to a postcard than those who might not be. It's something of a head start to ask this section of your target market to buy from you. However, understand that the strength of your offer will be what ultimately compels them to pull the trigger.
CTA Early and Often – It is only somewhat ironic that this is the last point I want to make. Call-to-Action gets your prospect moving. Ask them early to make a decision (e.g., clicking a link to download a white paper, or committing to the one-time payment of $29.95). Put it out there that you're counting on them. 'Let me help you'…but you've got to do this one thing for me first. Genius.
Make every effort to ensure you're making it easy for your target to absorb your message. Give us a call at Opportunity Knocks. We've got skilled Success Coaches standing by to you get those roadblocks out of the way. Let us help you create a postcard campaign that makes it easy for them to want to do business with you. And put you on the road to success!