New Customer Special: Skyrocket Your Response Rates
Get 1000 of your perfect prospects. FREE!
Simply call 855-466-6250 or complete the form below.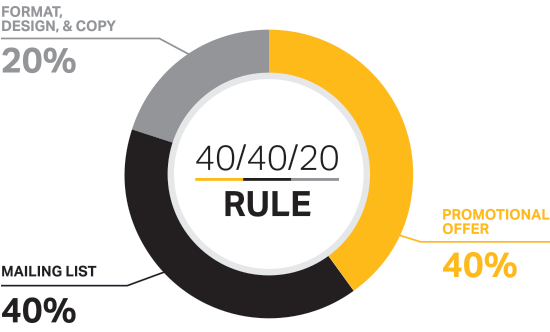 FREE MAILING LIST!
Start seeing better results by targeting the right buyers.
The Mailing List Makes the Difference
The 40/40/20 rule argues that 40% of your success depends on the list (who you're sending your mail to), 40% on the offer (what's in it for your audience), and 20% on everything else (format, design, copy, etc.). You should base the time and money you spend on each of these areas according to its percentage. The list is so important to the success of your campaign that modern marketers argue the 40/40/20 rule is more like 60/30/10.
With over 15 years in the industry and millions of postcards mailed, our team's purpose is to make your postcard marketing experience amazing! You'll save time as we handle all the details. You'll save money by following our target marketing best practices. And you'll see great results with our proven methods tested and re-tested time and time again.
From design to delivery…you're covered!
Marketing Consultation
Competitive Analysis
Custom Designs (Unlimited Revisions)
Targeted Mailing Lists
Innovative Personalized Digital Printing
Best Volume Postage Rates
From Large Brands to Small Entrepreneurs Opportunity Knocks Delivers