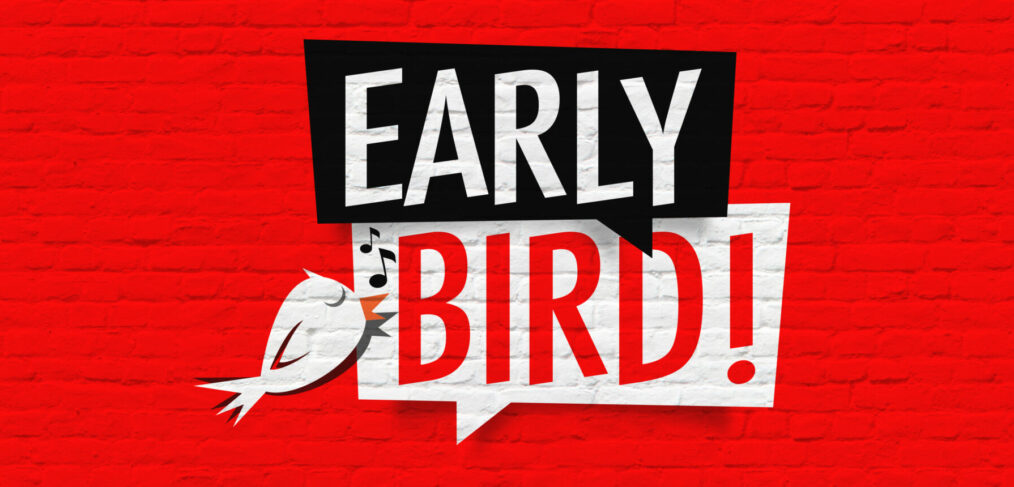 Be the Early Bird or the Worm: 6 Economic Reboot Strategies to Beat Your Competition
It is no exaggeration to say that the early bird gets the worm.  We all know that.  And in today's 'interesting' business climate more so than any other in recent memory, the importance of being first to market is critical.  Beyond that, being first in front of your prospect or existing client is even more important.  The economy, in fits and starts, is reacting to the economy opening back up.  People are emerging from their homes, and they're looking to spend money.
Because cities, counties, and states all seem to be approaching the concept and process of 'reopening' differently, you'll want to understand what's happening where your target audience lives and works.  Now is a great time to start planning your campaign, and placing yourself on the leading edge of marketing with reopening in mind.  These 6 Tips for Marketing Your Reopening can be key to a smooth transition:
1.) Skip the Politics – This is such a no-win proposition on a postcard. You're trying to entice customers to use your services or buy your product.  Remember when Michael Jordan said, "Republicans buy Nikes, too"?  It did not go over well at all.  [The ONLY caveat is if you're selling a niche political product to a much targeted political audience.]
2.) Focus on your strongest product – Best Sellers bring people through the door, whether they're first-time buyers or repeat buyers. Flaunt your amazing product reviews!  Showcase a genius product offered nowhere else!  Build that curiosity to keep them reading!
3.) Use current language (don't NOT mention the craziness) – Don't advertise a "COVID-19 BLOWOUT!" but by the same turn, it doesn't make sense to avoid the elephant in the room. Careful wording acknowledging the change everyone is feeling makes you seem connected to the prospect, and respectful of the ways the world has turned upside down for some.
4.) Position your business as 'We're ready when you are!' – Of course you want people in the door and buying online like yesterday! But this is an example of not putting a stopwatch on your prospects or clients coming back.  Nobody wants to be forced to do anything.  That doesn't mean you can't put offers out there for those who are ready.  But if you're nurturing future sales from a hesitant population, they might just appreciate you letting them take their time in coming back to you.
5.) Plan ahead for your reopening – How many times does a business honestly see this kind of opportunity? Talk about a slam dunk for a postcard campaign!  What a fun way to have another "grand" or "soft" reopening!  Re-energize your target audience and get them engaged by offering a courtesy discount or introduce a loyalty program, whatever.  But take a moment in your campaign to celebrate being available again to your magnificent clients and the new prospects you're bound to attract.
6.) Let them know they're appreciated – People love to feel appreciated by the businesses and businesspeople they buy from. From loyalty cards, or frequent shopper points, to birthday cards or emails, taking the effort to make some kind of connection beyond a sale can create a bond between business and consumer.  And that bond will bring them back for repeat business!
We're on the verge of leaving 'unprecedented' on the side of the road, as we drive off into a prosperous future full of promise.  Your reopening campaign should reflect that kind of spirit and positive outlook.  Business is the engine of our communities, but we're powered by outstanding clients and prospects willing to take a chance on us and our products.  Lots of other businesses out there are cocked and ready to make contact with their clients – and YOUR clients.  You can appreciate the power of getting the word out before anybody else.
Give Opportunity Knocks a call today.  Our Success Coaches are primed, ready, and excited to help your business re-emerge, re-connect, and re-introduce.  Let us help you put a great postcard campaign together, be that early bird, and make the most of reopening your business!