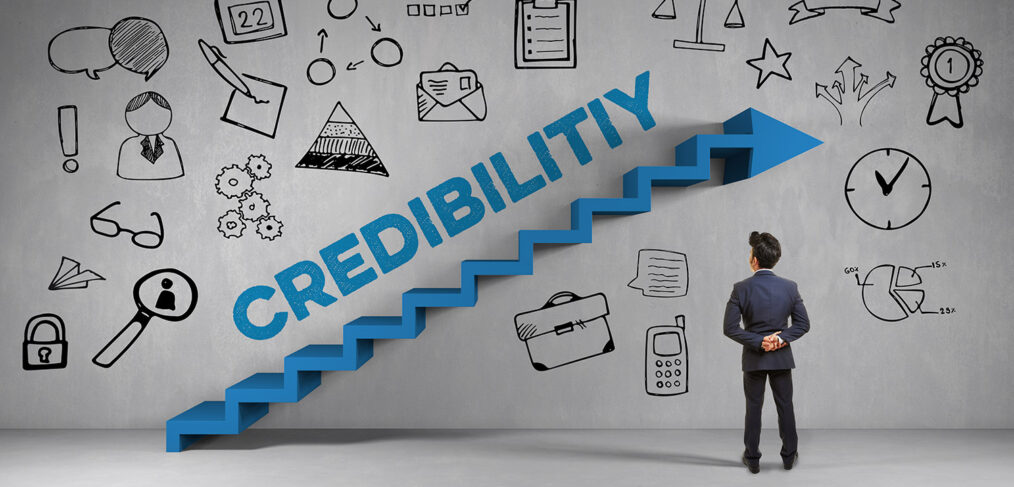 Your Credibility IS Your Business
When you think about the image you want your prospects and clients to use when associating your brand with their needs, 100% of the time that image needs to be sterling, it needs to be truthful, and it needs to emit credibility. At any point along the sales cycle, it is possible for something to go wrong and for your target audience to become negatively influenced by outside sources. You need your targets to trust you with implicitness. [NOTE: Technically, you're also doing that with respect to your competitors when you advertise the strength of your product or service over theirs.]
The intent in building trust as quickly as you can, especially considering in large part that you've never met your target (and probably never will, depending on what you're selling), is to paint the best picture you can of your abilities and your trustworthiness. That effort is often easier said that done. Make that task a little easier with these 6 Credibility Building Best Practices!
Write what they want to hear – If you think you need to trick someone into your product or service, you've got other issues. People reading your postcard want to hear you tell them you're going to solve their problem, help them achieve a goal, and get more information on whatever it is that's ailing them. Be truthful, but pointed in what you say, knowing not only that it's what they want to hear, it's what they need to hear from you at that moment in time.
Time Invested – You will always score points with a target when you tell them how long you've been in business, or what kind of experience you have in the industry. Of course, if it's only been six months, don't give an indication of experience on your postcard. But where you can, scream about your amazing experience and successes in the field. Half of all small businesses fail after five years. If you've been on the scene for ten years, twenty years, sell that to your readers!
Quantify Your Success – Sometimes, business boils down to a numbers game, plain and simple. So why not brag about your hard-earned success by highlighting an outstanding number of shipments. Give the target the number of units moved. Explain the sky-high percentages around on-time delivery that only your team can accomplish. Whatever it is, use that number to your advantage.
Spotlight Happy Clients – Good news travels fast. Bad news travels even faster. (Thank you, social media!) Find the space to highlight a great quote from a satisfied client. These work better than the generic '5-Star Service' anyone can claim. Pin your prospects future happiness to a positive – and verifiable – result from an existing client!
Illustrate Know How – I don't know the exact psychology behind it, but when someone says they're experienced in what you're trying to solve for, there is an instant sense of comfort in what you're about to hear. You can do the same thing on a postcard by listing your expertise, your credentials, or your history. Are you 'Board Certified' or 'published'? Are you 'tenured'? Have you achieved 'Master Level' or graduated from a distinguished apprenticeship? Tell your target how capable you are. They want to hear it.
Industry-recognized – Just like 'Oscar-winning' actors, or a 'Palm Beach Concur Best of Show' blue ribbon winner, being able to say your company is the best of the best draws a lot of attention, and can be wonderful for business. Bask in whatever appropriate industry recognition you've received. Include the date or don't…but make sure the target knows that your industry has said you are the best at what you do!
You can't tell your target everything because you don't have the space. But you do have the ability to give them more than enough to make them comfortable in your abilities, and to leave them wanting more. The one thing people love more than talking about themselves, is knowing that they're spending hard-earned money on quality products and services, delivered by credible companies.
Give Opportunity Knocks a call. We're an A+ BBB-rated, Inc. 5000 company! Our Success Coaches are standing by, armed and ready with amazing ways to help you pour the foundation of believability. Tell your story, brag a little, and get the right message to the right audience!