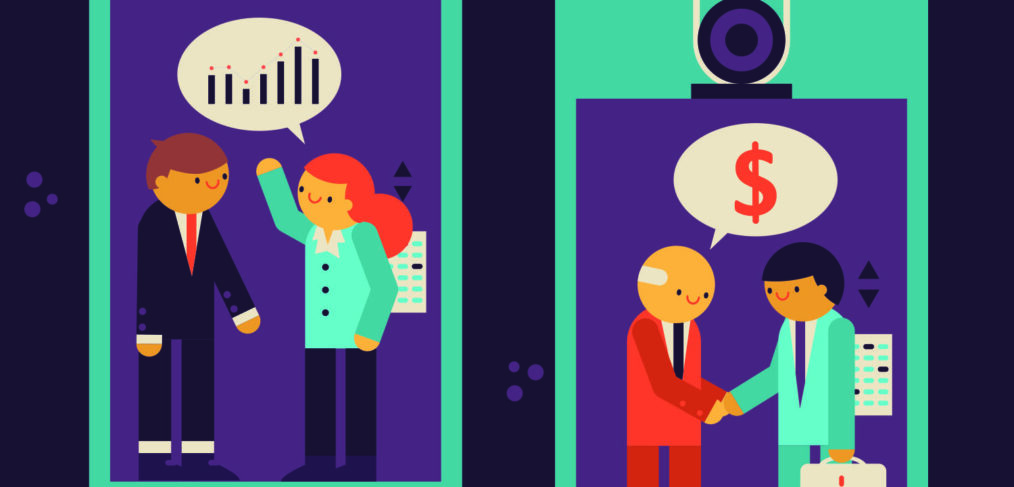 A 5-Point Postcard Marketing Elevator Pitch
You might be surprised by the number of times – and places – I find myself defending the use of direct mail postcards these days. From dinner parties to the post office to the gym, I'm amazed at how many people (especially small business owners) think they know why they aren't employing a postcard campaign to boost sales and find leads. It's good for me because I love meeting new people. And I very much enjoy being the one to teach them about the BEST way to market their businesses inexpensively and intelligently!
The uninitiated tend to huff when I explain my connection to direct mail postcards. The 'look' says it all. I smile, take a little breath, and lay it out for them. I've turned what is essentially my 30-second Elevator Pitch into this week's article. Here are the 5 Reasons You Need Postcard Marketing in your life:
Digitally Integrated: Just like you'd never drive a car with only one wheel, you shouldn't rely on just one method to market your business. By integrating a postcard campaign with digital media (e.g., social media, authorized email, etc.) you open up the channels by which you can stay top of mind. But it begins with a solid postcard campaign. From there, you can build your Home List and manage how you weave subsequent campaigns with Facebook posts, Instagram Live events, and other simple ideas to ensure your company remains public facing.
Trackable Results: A decade ago, you mailed out thousands of postcards and waited for them to generate business, blind to success of specific campaigns and/or offers. No more. Now, by simply adding a custom code, a scannable QR, or even a custom URL directing recipients to a specially created landing page, you can track as much data as you want. Know which campaign is pushing traffic to direct sales, which is pushing to lead generation, and from those activities, which targets become clients to add to your next campaign, or even better…your VIP mailing lists for 'Exclusive Offers'.
Extraordinary Personalization: VDP, or Variable Data Printing, is a game changer for direct mail postcards. Where pinpoint personalization was difficult (and expensive) to pull off previously, VDP gives you the ability to strategically reach individuals not only by name, but by any number of criteria used to separate them from the crowd. If you've ever used a Mail Merge in Windows, you know what I'm talking about. Personalization is a nice touch, especially for products or services related to health or financial well-being.
Outstanding ROI*: I've added an asterisk here because generating a favorable ROI depends on what you're selling and the price for the product/service versus a campaign geared toward lead generation. Let's use an actual product/service, though, in the example. Postcard campaigns are inexpensive because you know exactly how much they'll cost (includes postcard design and mailing cost to establish a per item cost; per item cost by number of postcards in this specific campaign). A 1,000-postcard campaign could be a success if you get two responses, and from those responses, you're able to sell a product/service which costs more than it cost to generate 1,000 postcards. More responses from the same campaign for the same product/service and your ROI is going to go through the roof. Does that make sense?
Reach Younger Targets: I've mentioned this before, but both Gen Z (1997-2012) and Millennials (1981-1996) respond well to this format. As an example, the USPS tells us that those groups have about a 57% response rate to BOGOs, 38% on Free Gift offers, and 31% to offers of free shipping. Although it seems like everyone in those age groups has a phone in their pocket or purse, the ability to reach them via a postcard is alive and well – and potentially lucrative.
I meet people all the time who, when we part, have a brand-new understanding of direct mail postcard marketing, and the ways it can help them succeed.
Give Opportunity Knocks a call. We've got Success Coaches standing by, ready to help you stop looking at direct mail postcards through the 'junk mail lens' and start looking through the lens that can help your business prosper. Together, we can design an out of this world campaign to help you take advantage of everything direct mail postcards have to offer.