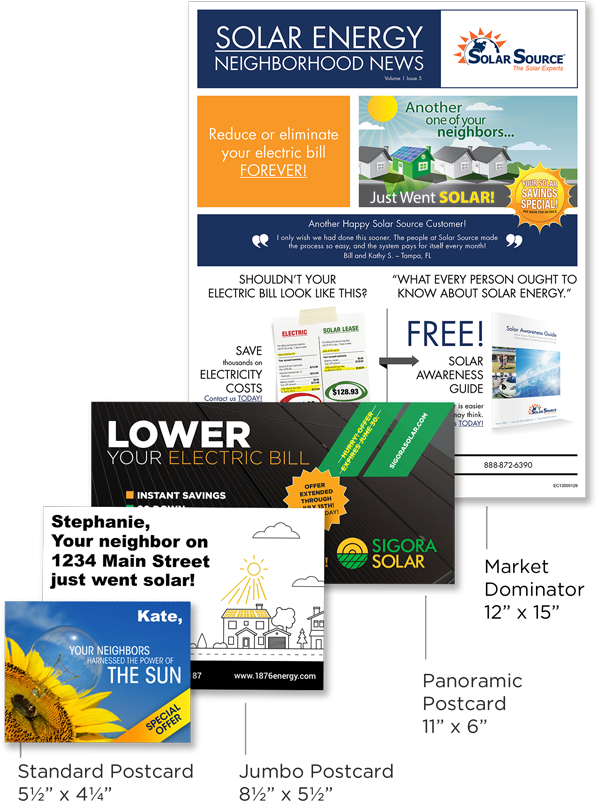 Solar Lease Offers – You know solar leasing with $0 down is a no-brainer but prospects think "What's the catch?" Use a combination of eye-popping postcards and personalized letters to explain how their $0 down decision will be one of their best ever.

Home Improvements – Homeowners are always looking for ways to increase the value of their home. Highlight how going solar can lead to better home appeal, more equity and a higher sale price.

Neighborhood Radius Mailings – When residents go solar, the neighbors get curious. And chances are, there are more solar friendly homes nearby. Strike while the iron is hot by sending personalized postcards around your, or better yet, your competition's, recent installs and turn one sale into more.

Rate Comparisons – "Show them the money!" Many people want to go solar, yet they don't understand the return on investment compared to their current power rates. Use long form letters and compelling graphical postcards to make an easy-to-understand rate comparison.

Solar Workshops/Events – Solar's biggest challenge is knowledge and people do not buy what they do not understand. Use ultra-personalized invitations to invite them to catered solar workshops or fun neighborhood solar block parties. The response will shock you!